HEY EVERYONE! It's my boyfriend Nero O'Reilly's birthday today. In case you didn't know, Nero is not just a cool friend who I go on adventures with, he's also a talented and prolific cartoonist. For the past three years, his main job has been drawing an adult comic for Slipshine called "Golden Trick" which you might've seen me crow on and on about before. About a week ago, though, he started a Patreon to help support himself through a more visible comic of his, the free-to-read webcomic project Carnivore Planet.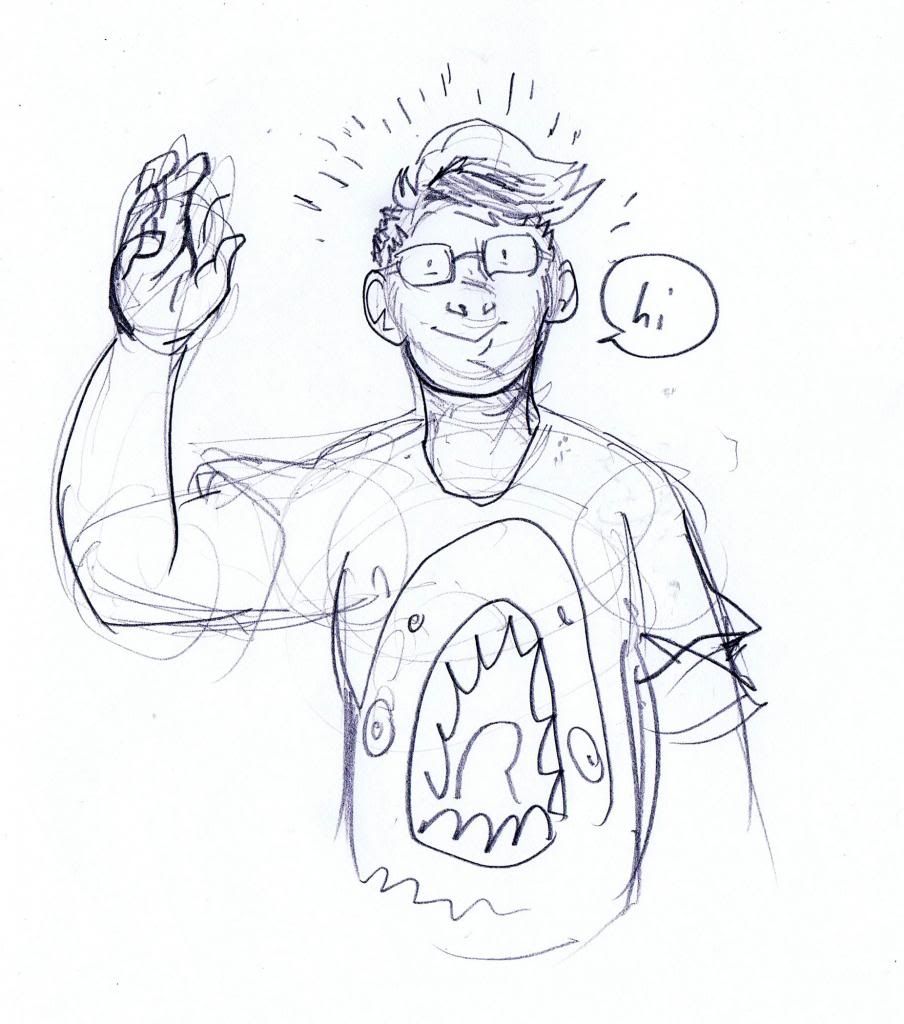 I could try to convince you to support Nero's Patreon because he's a good person— and he totally, totally is— but instead I want to rep for his skills solely as an artist. Emerging from the backwaters of rural Pennsylvania, Nero has been cranking out comic pages at an incredible rate over the past half-decade. Last year he put out over 200 pages in total of comic work, and he shows no signs of slowing down in 2014.
You'd never think he's that fast, though, looking at his pages. He has this organic method of hatching that causes his pages to vibrate with energy and texture— sort of a throwback to grungy alternative comix and zine culture of the '70s and '80s, but metabolized through a modern perspective. He's skilled at rounding out his characters' personalities through actions instead of unnecessary exposition, and his stories have a lean, fluid quality to them because of that lack of filler text. Most of all, he "gets" comics— he's incredibly attentive to page composition, how the reader's eye flows across a page, where to place speech bubbles… all that good shit that separates cartoonists from artists who want to write or writers who want to draw. It's uncommon to find people who can do this well. It's rare to find people who can do this well who are under 25, and have received no formal training in it outside of high school art classes. The only reason you may not have heard of him by now is because until recently his long-running series was behind a subscription-only paywall, hence Carnivore Planet, hence here we are.
And hey, speaking of that paywall, did I mention that he's a super vocal pro-LGBTQ artist working for a site that only employs two openly LGBTQ creators? And that he's never missed a single update in three years, doing (most prolifically) a romance comic about two con artist deer men in a Kabbalistic magic-infused ramshackle cityscape that's far, far more richly-detailed and different than that site requires of its employees' work? It takes a lot of guts to stick to one's principles in an environment like that.
There are a lot of artists you can give your minimum-of-$5-per-month to on Patreon, but giving it to Nero's campaign means something more than helping him out with rent and groceries (although that's also a perfectly reasonable excuse as well). To support Nero is to support a standard-bearer of webcomics: a voice from an isolated place, earning a living by creating unique stories with different perspectives that would most likely get all-too-easily marginalized and ignored by the mainstream comics community. I want Nero to succeed because I want to prove that webcomics work as a benefit to the medium of comics and culture in general, and aren't a weird novelty or con game. We need him, and we need more people like him, now more than ever.
Also, it's his birthday! If you aren't willing to help out a cool dude on his birthday, what kind of a messed-up pile of hair are you.
http://www.patreon.com/carnivoreplanet?u=42372