Art blog of soon-to-be-critically acclaimed cartoonist Ian Jay. Includes finished work, process sketches, and news on new and upcoming projects.
Ask me anything
April 23, 2013
New page up on http://ianjay.net! Go read it. That is all.
April 22, 2013
Eight mere days left until the Epiphany print fundraiser kicks off, and I'm announcing another donation perk. Unlike some of the others I've talked about, though, this one is GROUND-FLOOR level: If you pre-order ANY version of my book, even just the digital one, you'll be able to get your personal name or alias on the book's acknowledgements page! It's sort of a big "thank you" to everyone who helped make this group effort of a print project into a reality. PLUS: it's really cool seeing a big wall of people and thinking "oh man, look at all these obviously tasteful and awesome people out there. Maybe the world isn't such a hellhole after all." GOOD VIBES is the intent, friends. Good vibes.

More news coming tomorrow, so don't go anywhere!
April 21, 2013
Tonight on our EPIPHANY print fundraiser countdown: We've got NINE DAYS LEFT until we kick off, and tonight I'm proud to announce that Epiphany will be available not just as a printed book, BUT ALSO as a digital release! A full high-res copy of the book in both .PDF and .CBR format will be available for you more technologically inclined types to browse on your computer, tablet, smartphone or e-reader of choice WITHOUT having to worry about wi-fi or webpage loading times or ads or what have you. CYBER-TASTIC!
More news coming down the digital pipe tomorrow, so stay tuned!
(Source: ianjay.net)
April 21, 2013
New Epiphany page up on http://ianjay.net! I really can't lie, this comic has some issues wrapped up in it. Don't let that stop you from reading it, though!
April 20, 2013
Ten days left in our countdown to the EPIPHANY print fundraiser, and today I'm switching gears a little bit to talk about something I'm adding into the "Extras" appendix at the back of the book!
Epiphany takes place in Savannah, Georgia, and I cribbed a lot of locations and architecture in the book from real buildings in and around the town. To help make the AMAZING SEQUENTIAL ART PANORAMA painted in your head a little more realistic, I'm including a couple pages of comparison shots between comic panels and actual photographs to show what I based off of where. Remember that bit in the back of the one Scott Pilgrim volume? Basically I'm SHAMELESSLY RIPPING THAT IDEA OFF, except instead of Toronto we're using the beautiful, scenic Hostess City Of The South (And Home Of The Girl Scouts).
More news tomorrow! Stay tuned! Reblogs welcome!
April 19, 2013
Eleven days to go before our Epiphany print fundraiser starts, and I'm showing off another donation tier perk: VOTIVE CANDLES! I have been talking about doing these for a long time, and oh man, I figured out a way to actually make them. Each glass-jarred candle will feature the design above in FULL COLOR on a tasteful, durable vinyl decal. BONUS: The candles themselves WILL BE FIRE COMPATIBLE, so you can either preserve yours as a souvenir for all time or actually use it as, like, a candle, without messing up the design on the front or anything. WOW!!!
More news coming tomorrow! Thanks to everyone who reblogged yesterday's post— I am already pretty excited at the reception that even these little tidbits are getting. We're gonna make this book happen… USING TEAMWORK!  (Oh, reblogs on this post are appreciated too. I changed the Ian Jay blog layout to make it easier to read, even!)
April 19, 2013
New Epiphany page up on http://ianjay.net! In this one: more animal people yelling at each other. EXPECT A LOT OF THAT IN THE PAGES TO COME.
Reblogs appreciated!
April 18, 2013
OKAY SO: I sort of missed yesterday's Fundraiser Print Countdown update (publically blaming it on emotional fallout from screening The Pebble And The Penguin on Bad Movie Night), so we're sharing TWO, count 'em, TWO new bits of info on the project.
The first of them is: TOTE BAGS are making a return as a premium-level donation tier. BUT! These will not be just ANY regular old plain-looking tote bags, destined to be crammed into a forlorn corner of your pantry and lost forever! THESE will be emblazoned with the eye-catching silkscreen design pictured above, proudly stating that you are not just a fan of Epiphany, or of animal people; you are a fan of READING in general. READING ROCKS. And so will these tote bags.
The second, and probably far more important one, is the goal we're setting for the campaign. My last one was $900 to print 100 copies of a black and white book, and I made more than enough, but those 100 copies ran out very, very fast. This time we're going to try to aim a little bit higher.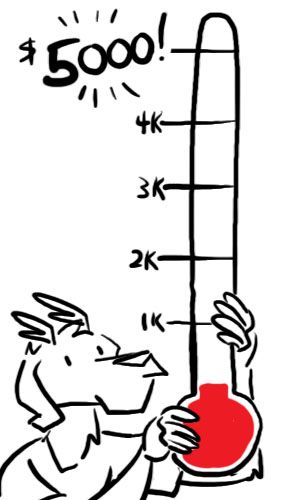 We're going to push to hit $5000 in 25 days, from May 1st to May 25th. This money will ensure we can print 300 full-CMYK color copies of this book and ship them out, as well as any extra donation goodies you guys might need. Here's a pie chart explaining the rough cost breakdown:
The printer we're planning to use is Gasch Printing, a book printer based out of Odenton, Maryland. I figured we could keep shipping costs down a little by finding somewhere local to get them done, so I'm not FedEx'ing boxes and boxes of heavy books over to my house. The campaign write-up itself will go into talking about how much everything costs in a little more detail, but if you have any questions now feel free to ask.
Be sure to tune in tomorrow for more news on this campaign AS IT BREAKS! Reblogs are, as ever, super appreciated.
April 16, 2013
Fourteen days to go before the EPIPHANY print fundraiser kicks off, and today we're announcing that we're bringing BUTTONS back as a donation tier! Pictured above are their working inks.
Designed by yours truly and manufactured by the good people at Busy Beaver Buttons, each button will be 1.25" in diameter and feature one of these three "god mode" character designs. AND IF THAT WASN'T ENOUGH? They'll also GLOW IN THE DARK. Too COOL! We're also premiering a very special fourth button design, but not until later….
More info on our donation tiers, and what you can get for each, coming soon! Stay tuned, kids.
April 15, 2013
Hey, Epiphany readers! As you may or may not have heard (from me), I'm holding an EPIPHANY PRINT FUNDRAISER through Indiegogo starting May 1st! To get you all sufficiently hyped up, I'll be counting down the days before the fundraiser starts with more information about the project.
Today we're FIFTEEN DAYS OUT, and I'll start with the most boring possible pieces of info: the dimensions of the book itself. The finished printed product will be a paperback book, 6 inches wide by 9 inches tall. It'll have 236 full CMYK pages inside, including the full run of the series as well as extra sketches, guest art, and fun stuff (more on those later). I'm trying my hardest to make it an attractive and durable addition to any bookcase, comic collection or bedside stack of reading material.
ANYWAYS: more info coming soon. Tomorrow, actually! Stay tuned!
(Source: ianjay.net)